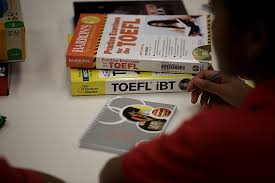 Serpong, 5th July 2019
Test of English as a Foreign Language is one of the required test for Indonesian Students when they want to finish their study in campus. Because it is a requirement, it may raise the pressure to the students that can possibly interfere their concentration to finishing the study. Learning TOEFL can be a bit creepy for some Indonesian students due to the difficulty comes along with sections they have to face. Different section makes different difficulty for them. Some students is perhaps fluent in one section but they barely make it for other sections.
TOEFL test itself usually has three sections, Listening comprehension, structure and written Expression, and Reading comprehension. Each of the section for sure has different strategy to answer it. Reading Section, for instance, instead of starting with reading the text, we can start from reading the question in order to grasp the general topic of the text. Therefore, this article comes up with the idea of which section we can start to learn before doing the TOEFL test.
First Section, First to Learn
Listening section is usually the starting step of TOEFL Test and many Indonesian students find it difficult to overcome the section. The first section is hard, the other sections must never be easier. That quote may be within their thoughts when doing the test. As the result, it also bothers the rest of the sections and we can guess what will happen to the score. Moreover, audio player may also be the disturbance during the test. Unclear sounds, bad quality audio system, and impossible request to repeat will be the nightmare during the listening section.
Yet, there is also a possibility that we can get a good result in this listening section, that is, Listening is the first section, the first thing we do before doing other sections. Our mind is still clear, our concentration is 100% ready, and our tummy is still completely full. Those will be the benefit of doing the listening, and therefore we have to make the most of it in the listening section.
Try to give much time in learning listening section, more than others. Because there are 50 questions in listening and thus there will be more score comes in the section. If you like listening to English music or watching English films, try to love listening and watching the news or weather forecast or even documentary films. It is because the type of the text in Listening section is usually from those media. If you have cable TV, try to watch Discovery Channel or National Geographic Channel as often as possible. Many of Listening texts discuss the similar topic in those channels. Moreover, you can enrich your knowledge in science, technology, politics, economy, or even Biology. They are good for you.
Confident With the Section, Do it as the Second
After mastering the listening section, the next step you learn is the part that you are confident with, either the structure or the reading. You have been learning structure in your school for 12 years, and 3 semesters in the campus, that will be a good reason for you to start reviewing the structure. Buy some TOEFL preparation books and review all the grammars there. It will not take a long time because you are familiar with some of them. If you have lack of money, try to search TOEFL Preparation sites and practice all types of questions in structure. It will extremely help you, and it is also very cheap.
If you want to challenge yourself in reading section, you may try to read news on the Internet. Start with Indonesian sites using English as their language. It helps you to be familiar with the context or the culture which Indonesian journalists commonly use in their news report. The Jakarta Post or Indonesian Readers Digest Magazine can be the alternative news you can start to read, and they are already online. You do not need to buy them.
Those strategies may not be fully helpful for you to get a good score of TOEFL test, but at least you know that there is other relaxed way to start learning TOEFL. Remember, just like you have a good grade in Math or Physics, a good grade of TOEFL Test is coming from a good love for each of the section.